(I Can't Get No) Stevie Jackson out now!
25/06/2012
Stevie's album is now available in all good record shops and on iTunes.
USA will have to wait until July 3rd, but it's coming!
Shows in Norway
19/06/2012
Stevie will be making the short hop over the North Sea to play an acoustic set and DJ at the excellent Modern Lovers nights in Oslo and Trondheim
Friday 27th July
Cafe Mono, Pløensgt. 4, Oslo
From 10pm onwards. 100 NOK
Saturday 28th July
Blaest, Tmv-kaia 17  7014, Trondheim
From 10pm onwards. 100 NOK
Indietracks, July 2012
14/05/2012
I'll be doing a solo show at this year's Indietracks festival and will also be playing at the festival with The Vaselines. It should be a good one this year and other bands confirmed to play included Veronica Falls, Allo Darlin, Summer Camp, The Monochrome Set, Go Sailor, Darren Hayman and Gordon McIntyre among many others.
The festival takes place over the weekend of 6th-8th July 2012.  For a full festival run down and ticket info please visit the Indietracks website.
Roy Moller & Sporting Hero's album
03/05/2012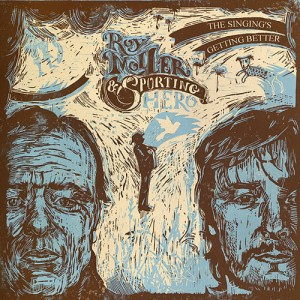 Some of you may be interested to hear about the new Roy Moller & Sporting Hero's album 'The Singing's Getting Better'. Several songs written by The Company (Stevie Jackson, Roy Moller & Gary Thom) are featured on the album and there's even an appearance from Lazy Line Painter Jane chanteuse Monica Queen.  The album is available as CD and download from Mecca Holding Co.
Live at Oran Mor, Glasgow
17/04/2012
Stevie will be playing at the venue in Oran Mor on Thursday 7th June. His fellow Belle and Sebastian band mate Bob Kildea will join his band on the night in addition to some special guests….
Tickets are available in advance from ticketmaster or by phone 0141 204 5151.
Tickets: £12.50       Doors: 7pm