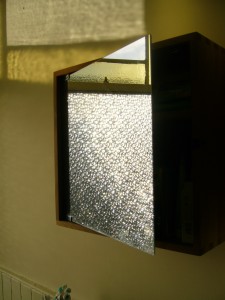 The Song
One of the first songs written with the Company – this is one of my favourites. It was a very spontaneous recording with a few overdubs thrown at it without too much thought. It all kind of hangs together like it doesn't care. I don't think I'm a natural Krishna who talk of the "little death." I love the dream like state. This song doesn't pertain to a real experience but describes it anyway. The wonder of being alive, the magic of the morning/evening. As long as one can keep breathing there seems to be a limitless supply.
The Players
Richard Colburn drums
Bill Wells bass
Bob Kildea guitar vocals percussion
Roy Moller elec piano vocals percussion
Chris Geddes organ
Stevie guitars piano pedal steel percussion vocals
The Writers
The Company
The Words
The more I saw her, I can't forget her under Saturn's Moon
Stars are flying, past my window, morning comes too soon
And in the morning, spaceships calling me before I wake
Try to board 'em with my ticket then it's much too late
Silver lining, the sun is shining through my window pane
The more I saw you, I can't forget you, I want to see you soon
I'm a flower and it's raining, it really does me good
Feel the morning, feel the evening, feel the same way too
I have see it and I like it, so how about you?
"Hey, you mean so much to me"