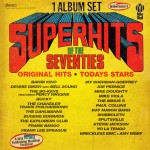 Last month I was in the studio with Marco and Stuart from the Wellgreen working up a version of the seventies' classic, Rock Your Baby. It was part of this year's WFMU Fund Raising Marathon and an album of 70s covers in the style of K-Tel curated by Michael Shelley. Other contributors include Yo La Tengo, Joe Pernice, The Minus Five and Amy Rigby/ Wreckless Eric.
Being a bit late to the story, the pledge drive has now reached its target but you can still donate / buy the album and help support both the station (or specifically Michael's show).
In the meantime, here's the specially created taster/ TV ad for the album:
and here's a preview of our version of "Rock Your Baby". . . if you like it, please donate!